Now that your little one has been at school in Reception for half a term, the majority of them will have settled in and be quite happy to go to school with a smile. Most will bounce in, hold their teacher's hand and say goodbye without a backwards glance! But not all…. I'm not talking about the odd day of not wanting to go due to tiredness or 'have I got to go anymore?' but the child who just can't seem to settle whatever you do as their parent. As a teacher with 20 years experience, I thought I would share with you my thoughts and tips which I hope you will find helpful.

Let me start by saying don't worry. It's tricky not to though isn't it? But honestly, please try not to worry as most children are fine once they are actually at school. Some children just get 'stuck' in their mindset and it becomes part of the 'routine' of school. It's school so I cry and so on. As parents and teachers we need to show young children that it's ok to miss mummy or daddy but that school is ok too. But how can we do that and change the way they start their school day?
Here are my top 5 tips:
Let them take a cuddly toy or similar to school so that they have something from home. Many schools don't allow toys but I don't agree with this rule for Reception aged children. Some children just need a little comfort. Explain that the toy is there in case they feel sad at school so that they can remember that Mummy or Daddy are not far away. Let them keep it in their bag so that is not in view all the time (this is not helpful as they need to get on with school life too).
Have a photo of Mummy or Daddy in their bag so that they can look at it when they feel they need to. As a teacher I would let children have a photo on display to be honest so that all the children can talk about their families together. I make it a happy chat so that the children can see that talking about their families is lovely. It also builds confidence in the children when speaking a loud. They can take a sneaky glimpse at their photo when they are feeling anxious.
Have a secret 'kiss' on their arm under their sleeve. This is a good one that I have asked parents to use when they are feeling desperate. Use lipstick and make a kiss on their skin but they can only have it there if they keep it a secret for when they feel a little sad. It's so that they always know you are always thinking of them too.
Try to stick to exactly the same routine each day and prep your child each morning with positive language such as, 'Its a school day so let's get dressed and have a yummy breakfast.' Smile lots and give lots of praise. When you get to school remind them that they are going to have a lovely day in school. Say this to them. Do not say, 'I know that school makes you sad but…..' This will only make them sad! Remind them of a happy thing they did the day before so that they develop positive memories and feelings about school.
Do not try to reason with them when they are crying or angry; they will not hear you. Just keep repeating that they are going to have a lovely day and that Mrs Teacher will look after them. Try to avoid eye contact and have the same routine each morning which can be decided with your child's teacher. For example, bring your child into the classroom, help them put away their things, tell them that you love them and leave. Hand them over to the same adult each time which will possibly be a teacher assistant who will find them a very important job to do. This MUST be consistent. Children are very, very clever and will try everything they can to get what they want but at the end of the day, they have to go to school so you have to be strong for everybody. If they see that you are upset or annoyed at their behaviour they are winning. Lastly, do NOT let them have a day at home if they ask you because you will be back at square one.
This can seem like the trickiest thing ever when this happens to you and I have dealt with crying parents and children over this; you are not alone. The only other advice is to talk to your child perhaps at the weekend when they are not tired and hungry. Ask them why they cry each day and listen to them. Do not ask them leading questions such as, 'do you cry because you are unhappy/ you don't have a friends/ because you are lonely?' etc Let them tell YOU why. Mostly they will not know why or it will because they miss you. Trying the above things will help.
If all these things fail, your child may have a separation anxiety disorder. It is worth investigating this by talking to your child's teacher if you are worried.
Do contact me if you want to chat about any points in this post and I will happily try to help you.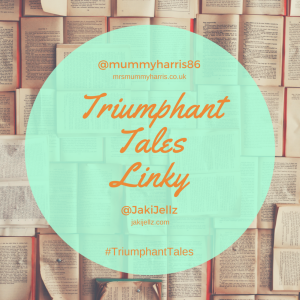 A blog about my life in The Old House, a mum to teenagers, a primary school teacher and my passion for gardening.