Being a primary school teacher is exhausting at times but also great fun and is very rewarding as a job. I have been a teacher for over 20 years and I hope other teachers may relate to this post!
You know you are a Primary School Teacher when:
1. You get excited by new felt tip pens, pencil cases and unicorn shaped erasers.
2. You are still buying school shoes in your 40's.
3. You get called 'Mum' at least 3 times a day.
4. You are capable of eating a meal in under 5 minutes and going all day without using the toilet because you need to hear children read/mark homework/prepare for science.
5. You have given up explaining the fact that your holidays are fair and that you work past 3.30pm.
6. You can correct a badly behaved child in the supermarket with your 'teacher face.'
7. In that same supermarket, you know you are a teacher when you run away from a certain 6 year old's parent who you do NOT want to see.
8. Then you accidentally bump into that said parent but smile politely and ask after their darling (demonic) child anyway.
9. Even in your 20's, you are old and every flaw you ever had and more have been pointed out to you by little children.
10. You can never, ever change your hair/make up/shoes/coat without someone noticing (and it's not your other half!).
10. You question a child's personality or behaviour until you meet their 'quirky' parents.
11. You don't mind your legs being stroked/hand being held by someone that is not your partner.
12. You stand in the supermarket thinking about how you can use lentils in the classroom as they are on special offer. You realise that you are wearing a 'I am amazing' sticker in the supermarket queue.
13. You spend Sunday afternoons in January on Pinterest looking for Easter planning ideas to share with your colleagues.
14. You have superpowers and can tell if someone is lying/weed their pants/stolen someone else's snack.
15. You own a laminator, staple gun, have piles of coloured card at home and own hundreds of children's books even if your own children are older
16. You have cried in private about that certain kid that worries you so much it keeps you awake at night.
17. That same kid doesn't come to school the next day and you worry some more.
18. You have heard every bad parenting story and it sadly doesn't even shock you anymore.
19. You are not shocked either by the stupid names that parents name their children or the different ways of spelling Elisha/Alisha/Ealishea/Eleeshaa.
20. Despite all the crap from everyone (government, policy, parents) and poor comparative salary, you are still amazed at the power of learning something new and the excitement that brings to a young child's face.
My lovely friend, Hayley over at Missionmindfulness blog has written a post about her experiences as a
secondary school teacher . Do take a look!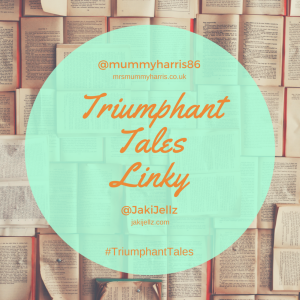 A blog about my life in The Old House, a mum to teenagers, a primary school teacher and my passion for gardening.